Free and nearly free fonts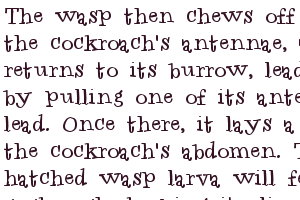 Choosing the right font to represent you is something you should take a bit of trouble over, whether it's on a website masthead, the cover of an eBook, or even a business card. Fonts play a powerful part in conveying a corporate impression – from the classic gravitas of the Roman-type serif, to the elegant refinement of the script-based fonts, to the jokiness of some of the illustrated fonts. The clear lines and friendly informality of the Transport typeface designed by Jock Kinneir and Margaret Calvert in the 1960s for use on UK roadsigns led to it being nicknamed "the handwriting of Britain" – which didn't stop it from being adopted by several other countries around the world for their roadsigns. (A lightweight version is now used for the body text of the gov.uk website, and very readable it is too.)
Whatever you do, if you're designing a website masthead – don't just slap something on in a generic browser font and leave it up to the viewer's browser to choose for you. You might end up with your site's name being blazed out to the world in Comic Sans MS!
Don't worry, there are literally thousands of places to get free and inexpensive fonts. This is just a small list of some of my favourites. (I might add to it in the future.)
1001FreeFonts
This one has about 10,000 free fonts available for download in a wide range of different styles.  See how your choice is going to look by using their preview tool to enter your custom text, and choose the size and colour. There's nothing bleeding edge in here but if you're just looking for a font for a blog or book cover or something, then why not? The fonts are all free.
http://www.1001freefonts.com/
Dafont
This is very similar to 1001FreeFonts. There's not really much else to say about it. Also free.
http://www.dafont.com/
FontSquirrel
These guys offer high quality fonts including for commercial use. They have a wide range of hand picked fonts and boast they're all 100% free. If you're looking for a free font, you should probably have this one on your go-to list.
http://www.fontsquirrel.com/home
MyFonts
Try here for a great selection of high-quality almost free and inexpensive fonts.
http://www.myfonts.com/
FontSpring
There's loads of great fonts in here. Most of them very inexpensive. It's definitely worth a look around.
http://www.fontspring.com/
Fonts.com
As you'd expect from the site with the generic domain, this one has it all.  Try it for everything about typography.
http://www.fonts.com/
Creative Bloq
If you're happy to dig around a bit, try Creative Bloq. They have enough in there to keep you busy for ages, especially if you start following some of their links. This one is a mine of information and a must-go place whether you're looking for a font or just inspiration in general.
http://www.creativebloq.com/graphic-design-tips/best-free-fonts-for-designers-1233380
PizzaDude.dk
And finally, a special mention for PizzaDude. He has some unusual fonts which you might like. I do! Some are free, some are inexpensive. If you're looking for something a bit different, then you might like this site too.
http://www.pizzadude.dk/home.php

I won't be surprised if there are some howls of protest because I missed your favourite font site. Well, the above are the ones which I use and like. But if you want to add anything, please comment below.