These days getting an education doesn't have to be expensive. There are countless free courses which you can do online, in your own time and in the comfort of your own home. I already posted last year about some fantastic free university courses from Coursera.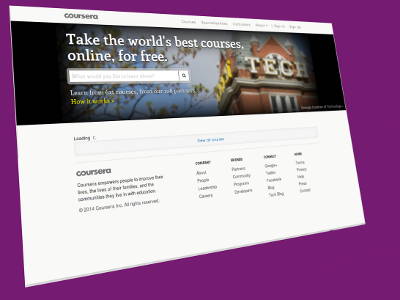 Since then I've found some more good places offering free online courses. Have a look if you're interested in getting a bit of free edukayshun.
I really like Coursera. The courses are very professionally presented. They have plenty of courses about business and various other subjects such as maths and science but, beyond art history, they don't have much on the creative side of things. Never mind, there's no shortage of these elsewhere around the interwebs so perhaps more about them later.
Coursera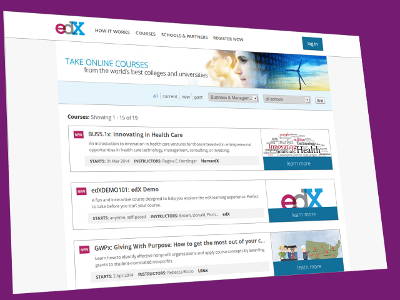 There's also edX, where you can take free online courses from some of the world's top colleges and universities. They cover a wide variety of subjects including business, literature and science from some pretty cool universities such as MIT, Harvard and Berkeley.
edX
And all this is FREE! Yes, really free. You youngsters don't know how lucky you are these days. 😉
And now for a slightly different proposition. Have a look at CreativeLive. These guys offer some great courses for creative people. They offer subjects such as art and design, photo and video, music and video, craft  and plus business and money. So there should be something for everyone in there. These courses are also free, but the "catch" is that you have to watch them at the times of CreativeLive's live broadcasts (or rebroadcasts, although obviously you don't get to "chat" with the presenters during those). Otherwise, if you want to watch them in your own time you have to pay to add them to your online library with CreativeLive. If you're time rich and money poor I guess you won't mind too much if you have to watch a "must-do" course at some queer time in the morning.
CreativeLive
There are plenty of other places to find online courses, eg Udemy. But they're usually not free, and to be honest, the standard is often not as good as it might be. That said, it's quite easy to become an instructor there and make money buy selling your own course. So, if you're an expert in something, whether it's art, business, website design, bee-keeping or anything, you can create a course to teach others what you know and make some good money by selling it. I'll post more about Udemy later. I got about half-way through creating a course about online business but life got in the way somehow. If/when I do go back to it, I'll be sure to share my experiences here with you all. (Erm, there are people who read this blog, aren't there?)
Have you done any of these types of courses? Perhaps you've been a student or a lecturer? Please comment below and share your experiences.