How to Create $1,600 per Month Niche Websites for Passive Income (2nd edition) – a book review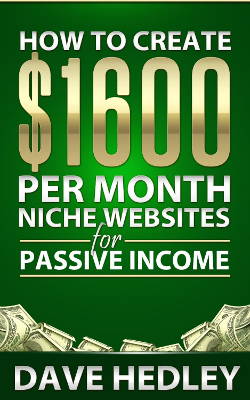 I first reviewed this book in October 2013, and was surprised by the amount of interest my review received. Several people commented to say that a new edition had been published since then which had removed a lot of the problems I'd outlined in my original review of the first edition.
I endeavour to provide useful reviews on this blog, so in the interests of setting the record straight I bought the new edition of the book on Amazon today. Let's see how I got on.
How to Create $1600 per Month Niche Websites for Passive Income [Kindle Edition]
By Alex Hedley
Publication date: January 1, 2014 (Second Edition, 2014)
Estimated length: 31 pages
Here is the book's description from Amazon:
How Would You Like to Earn Thousands of Dollars Every Month from Doing

Absolutely Nothing

?

Sounds Good, Right?
In this book, you will learn my personal secrets to building niche websites that earn me as much as $1600 per month, EACH, from selecting your niche to building your website, to using my unheard of White Hat method to blast your site to the first page of Google in as little as one week. Whether you're completely new to internet marketing or a seasoned veteran, this guide will show you every step of the way along with pictures and tips, leaving nothing out, and is the exact system that I use for my websites that earn thousands of dollars every month straight to my PayPal and Amazon accounts.
Who Am I?
I am an internet marketer that personally runs and owns multiple websites in my spare time that earn me from $126 to $1631 every month per website all in my spare time (while being a student full time).
What Do I Need to Use This Method?
To use this method you will need: A solid work ethic and at least 15 minutes every day to put towards this system and to invest in your website. You will also need approximately $30 to get your website started, to cover hosting costs, and a domain name (note that this method can be applied to ranking and making money from websites you already own!)
Is This Method Spammy, Black Hat or Does It Use Any Methods that Are Illegal or Against Any Websites Terms and Conditions?
No. This method is completely White Hat and the methods used to rank your websites on Google do not involve buying links, using spam, or software to automate your SEO. This method is doing exactly what Google wants you to do, just doing it smart by planning it so you can maximize the reward and minimize your effort as well as automating some procedures.
Can I Outsource This Method?
Absolutely! I always recommend getting a feel for the method by doing it yourself first (and that applies to any guide or method) but once you start making money from your own sites you can reinvest that money in your business by hiring someone to do the work for you, while you collect the profits!
So, what are you waiting for? Get this guide today, and if you're not completely satisfied or don't like it for any reason just request a refund within 7 days and you will receive a full refund.
First impressions
Before I even get started on reading the book itself, this description has set off several alarm bells for me.
It is simply not possible to earn thousands of dollars every month for doing absolutely nothing. It's a lie to suggest otherwise. Even to create a flow of passive income, that highly desired outcome, requires some priming of the pump to start the flow in the first place.
The idea of blasting your site to page 1 of Google within a week is also questionable. Even assuming it's desirable and possible (and that's debatable), it can't be guaranteed to last. With Google's ever-changing algorithm it's always a case of what's here today could be gone tomorrow. Unless, of course, you believe all the nonsense about Panda-proofing your websites.
And another red flag for me is these early indications that the whole system depends on ranking well in Google. It seems dangerous to me to be so heavily reliant on any one source of traffic, whether it's Google or some other third party. If you rely on only one source, then you're dead in the water if for whatever reason that source dries up or is turned off.
Mix that lot in with some bullshit bingo words such as "personal secrets", "exact system" and talk of getting rich in "15 minutes a day" and it looks as though we're headed for yet another hackneyed MMO offering.
The book itself
As before, the first thing that struck me about the book was that it's by Dave Hedley (according to the book cover) or Alex Hedley (according to the book itself and Amazon). It's not important, but it's just a little oddity that a few people have commented on and which hasn't been fixed or explained in the new edition.
This version of the book starts with a table of contents, which is an improvement on the last version. Here we get an overview of the book's contents and a view of the road ahead.
The first few pages of the body of the book are mostly unchanged. The structure is improved and he's now using simple formatting such as headings and sub-headings.
Explaining the system
He tells us how his system can be used for physical products as well as digital, although for the purposes of this book he's going to talk about digital products. Then he provides a screenshot to "prove" his earnings selling physical products as an Amazon Associate. (At least I think that's what it's supposed to be—it's very hard to tell from the illustration.) As before, he lists what we'll need to do this: SEO Quake (a free SEO tool), a domain and hosting, and a Google account.
He next outlines briefly how his system works. In my earlier review I had criticised his use of the word "hits" in this context, and was disappointed to see it's still there. It's a little thing, but it does give what he says a whiff of amateurism. Still, at least the new edition was laid out better so that it wasn't presented as a confusing jumble.
From my previous review:
Page 4 – This page is a confusing jumble of (mis)information. You're going to be using other people's blogs where they review products to drive traffic to your own. That way you can benefit from their SEO efforts and Google's trust and favourable view of them. He gets about 8,000 hits (sic) per day using this.
As before, Step One is "Find a Niche". Finding a niche consists of what you'd expect—find products where there's a buzz around them (so that you can benefit from the big marketing budgets in their wakes), and look for holidays and seasonal events which are likely to boost the product's popularity. Then you need to test the "rank-ability" of your chosen niche. This is where SEO Quake comes in, and he provides an unreadable screenshot of how SEO Quake is supposed to look on your computer when you fire it up.
Then there's an explanation of Google PageRank (PR), the same as before.
This is the ranking of how important and trustworthy Google views your site as. Most new sites are a PR0, meaning Google doesn't see them as very important, but if you build up links from quality websites with high PageRank's and have people discussing your website, your PageRank will begin to augment.
[Source: 2014 edition of his book]
Next there's a brief explanation of the other things you need to know to be able to use SEO Quake. These include L for "links" and LD for "Links to domain". And that's "all the tools from SEO Quake you'll need to use for this method". I expect this probably makes sense if you install SEO Quake and try to use it.
Then follows some guidelines about how to check if you've chosen a good niche or not. And, wait for it… he still recommends using the "Google AdWords Keyword Tool". It's a big disappointment to see that this is still here. After the comments I received on my original review, I had fully expected mistakes such as this one to have been fixed by now. No such luck.
From my previous review:
Page 7 – This shows us how to do keyword research using the Google Keyword Tool. Oh dear, such bad timing! The Keyword Tool was scrapped by Google on 27 August this year [2013], just three days after the book was published. Unlucky, perhaps? Not really. Its replacement, the Keyword Planner, had already been around for over three months by then, so it was no secret that the Keyword Tool was about to be withdrawn.
It may be that he's just used the wrong term for what he's using, because later he does refer to the Google Keyword Planner and explains how it differs from the Google Keywords Tool, so he is at least aware of its existence now. His explanation of the difference between the Keyword Tool and the Keyword Planner is quite useful. It's probably just the case that the book hasn't been professionally edited—which is easy to spot anyway, given the grammatical errors.
Creating a website
The next section of the book is "Building Your Website", and it doesn't look as though anything has changed in the new edition. As I said in my review of the previous one:
Page 9 – This page explains why you need to get your own domain rather than just using one of the freebies which let you set up your own site. Fair enough, I agree with that, but this is terribly elementary stuff. I wonder who the target audience is. And we still haven't got beyond choosing a niche and finding keywords.
As before, we get an explanation of what WordPress is and how to use it, along with your domain and hosting, to set up sites. I'm pleased to see he's modified the claim in the last edition that Google gives more trust to domains which have been registered for several years ahead. I'm satisfied with his revised take on the matter, which is useful and it's better than simply doing a ninja edit so that the old advice just "disappeared". This section is now probably useful for people who are new to building a website from scratch.
And next we're onto "Writing Content for Your Website". He outlines three main ways to create the content:
Buy PLR articles and spin them. This is the method he uses most. He recommends a spinning tool which has had good reviews on places like the Warrior Forum. Well, no doubt you can find some good stuff on WF but I've also seen some complete turds on there getting rave reviews from the Warriors too. Your choice.
Write the articles yourself.
Outsource.
And he suggests getting free images for your site by using Google Images.
Promoting a website
The next section is "Promoting Your Site".
Before getting started, make sure you already have some things in place. He includes a checklist which could be quite handy, but he's still recommending that reviews should be at least 400 words long. Please correct me if I'm wrong (and no doubt someone will!), but I had thought the Google gurus were recommending considerably longer postings these days, and had been for ages.
He also includes some suggestions of WordPress themes. I'm not sure why he's decided to do this now, rather than earlier in the book, as I'd thought we'd already reached the stage where the site is already set up, populated with content, and ready to be promoted.
He then moves on to SEO (Search Engine Optimisation). As before, he recommends using Google Alerts and blog commenting to build backlinks and increase traffic. As I said in my previous review:
Page 15 – Still on the subject of promoting your website, next he describes how to set up Google Alerts and dump crap comments on other people's blogs. Well, he doesn't actually put it like that but he gives an example of a blog comment including a link to the site being promoted. Sorry, matey. Many blog owners would see that as being spam. I would.
OK, so he actually emphasises more than once that you should make thoughtful comments and that you shouldn't spam. But, although he tells his readers not to spam, his suggestion of how to go about things would still result in spammy blog and forum comments.
This, he says, "will help your search engine rankings and give you the holy grail of backlinks." And this presumably is his "personal secret" of how to benefit from other people's SEO efforts and Google's trust in their sites.
Next he looks at "outsourcing the process". Once you get going and you start earning from your blogs, you can think about outsourcing some of the tasks, either to a virtual assistant (VA) or to a freelance writer. Be sure to tell them what kind of comments you want them to write.
Well, everyone's experience is different but I would expect to pay darn well for blog and forum comments which would be of a similar standard to what I could make myself. And, without that quality assurance, it seems to be the case that you'd just be paying someone to spam blogs and forums on your behalf. Yes, I know he says not to make spammy comments, but despite this warning he is actually telling you how to do just that, including in the example comment he provides for you.
The biggest giveaway is using commenting as a link building tactic. Most blog and forum owners would spot this tactic a mile away and most certainly would not appreciate such links, even if they are "hidden" within a useful comment. Personally, I'd let the comment stand and edit the link out of it. I would be very surprised indeed if there are enough blog/forum owners with high ranking sites around and who would accept such linking behaviour, to make it a worthwhile tactic.
If this is really the "secret" to making $1,600 per month, then I am quite shocked and find it very difficult to believe it works. Is there anyone reading this who has actually tried and succeeded by using this method?
Aha. I'd thought that I was at the end of the book but there's still more to come. Lastly, we have "alternatives for building backlinks"—what a relief it doesn't all end with blog and forum commenting. Here he recommends putting "quality" content on your site so other webmasters will link to you. Fair enough, but that is neither new nor a secret tactic.
Post articles on EzineArticles. Gee, I've not seen anyone recommend doing that for years. Does anyone still do it? Is there still any benefit?
Guest posting is another way. It looks as though Alex Hedley (or was it Dave Hedley?) wasn't paying attention to Matt Cutts recently (January 2014) when he declared that guest posting is dead as far as Google is concerned. Cutts came out with one of his usual inarticulate statements about it. He said, "Stick a fork in it". Whatever that's supposed to mean, it wasn't complimentary nor was he recommending you should do it.
And so the book ends with a bit of tired old recipe that doesn't work any more.
Conclusion
There have been some improvements since the first edition. The formatting is better. Mr Hedley is now recommending Keyword Planner instead of the now obsolete Keyword Tool. He's also fixed up the earlier poor advice about the benefits of registering domains for several years ahead.
However, I still have some criticisms. There are several mistakes which professional editing would have cleaned up. Much of Mr Hedley's advice is very old—there aren't any tactics in this book that aren't already included in many (if not most) tired old recipes about doing well in Google. Some of the advice is also obsolete (see the Matt Cutts example earlier). He is still in the mindset that success in Google SERPs is synonymous with Internet success—it would have been nice if he'd even mentioned that there are other sources of traffic. The "secret" of his method appeared to be dropping links (and paying others to drop links) on other people's forums and blogs. And to cap it all—I'm still at a complete loss to understand how all this commenting and guest posting can result in PASSIVE INCOME.