Using social media to acquire more customers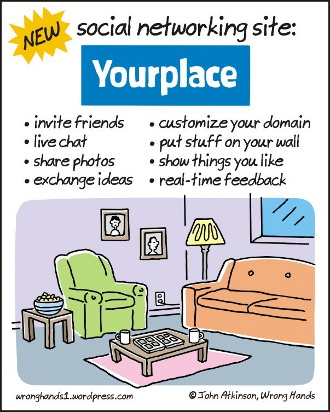 © John Atkinson, Wrong Hands
I'm sure that lots of you are just like me – completely overwhelmed by the plethora of social media. Sometimes I feel obliged to spend all my time tweeting, liking and hanging out on those sites. To be honest, I can't face up to the task so I hardly ever do it. Anyway, is it really worthwhile? Let's have a look.
First, here's an article from entrepreneur.com about how to use social media and not feel overwhelmed. In a nutshell, the advice from the experts is:
don't try to do everything; concentrate on only those social media channels which will deliver best results for you
schedule time to do it so you don't have to spend all day on it
be human; don't present yourself as some kind of automaton or robot
I liked this comment best, probably because it's the one I identified with most:
Curate other great content, and offer up your personality. I am a big fan of finding the one or two platforms that you really enjoy. Then, find great content that others have shared or written, and offer it up with a personal touch. Add some of your comments or expressions to the tweets, posts or updates, and see where that can get you. Social management doesn't always have to be profound or even novel. You can offer value just by showcasing other great content in a personal way to people who need it. Definitely don't spend time on a platform just because you think you should be there. Be there because you enjoy it, and you are having a good time with your potential and current customers.
Read the article if you want more details of what the other experts said. Most of the advice seems like common sense. It's just that sometimes there are so many neon signs with inviting messages, it's hard to know where to turn. You can end up like a rabbit fixated on a car's headlights and be unable to move. (That's me!)
So, what can we do to solve this problem? I suggest that if you're going to concentrate on only one or two of the social media sites, then it's worth having a look at which ones will be most useful to you. In any case, you may be worrying about nothing. There is some evidence which suggests that email marketing and CPC is more effective than using the social media sites.
Customer acquisition trends reflect this evolution. Organic search still leads as the largest channel for online customer acquisition. But as more retailers move towards a "free-to-paid" subscriber model and rely on third parties to help drive visitors to their sites, email and affiliate channels have seen an explosion in growth over the past few years.
Custora: E-Commerce Customer Acquisition Snapshot, Q2 2013 (PDF file, 556 KB)
At first glance, the graph on page three of this report shows that organic search is way ahead of everything else, with email marketing and CPC vying for second place. Twitter, Facebook et al. are creeping along the bottom of the graph like snails.
This worries me a bit, because many of us have learned not to rely on organic search for our traffic. I don't understand this obsession with organic search anyway. Some people claim that any business which gets more than 30% of its traffic from organic search isn't really a business. And we all know how those who rely on ranking high in Google can have their world turned upside down overnight because of an algo change. And yet, according to this report, organic search only accounts for 16% of new customer acquisitions. We need more information about the size and composition of the sample, although at the end of the report it says, "These findings are derived from data spanning 72 million customers from 86 U.S. retailers across 14 industries." But where are all the other new customer acquisitions coming from? The report doesn't say.
Next, the report addresses the issue of customer lifetime value (CLV). Again, organic search performs best and "customers acquired through Twitter tend to be worth about 23% less than average". Why is this so? They attribute this to the frequency of discounts offered within tweets. I'm not convinced by this. If you're talking about new customer acquisition, then I can easily see why Twitter would perform poorly. Much of it is about people talking AT you and bombarding you with sales messages or totally boring stuff. However, we're talking about the CLV here, so, having acquired the customer via Twitter then surely it's your job to engage them to keep them as a customer. Maybe I'm missing the point but this doesn't quite add up for me.
Google+, another of the big guys in social media, didn't even get a mention in the report. Does anyone, other than social media professionals, actually use it?
So for the year 2012 there have been numerous comments shared all over the web referring Google Plus as a ghost town. Loyal user were quick to defend their favorite network and even worked harder to keep it alive. One will noticed though that even if there is some level of interaction on Google plus, the topics are usually related to Google, Google+, Android, photography and a lot of other technical stuff…

…The bottom line today is that Google+ is definitely not a ghost town but it is for certain type of content and certain types of users.
(SiteTrail.com: Google+ is now 2 years old: what the network has achieved so far)
Custora's 2013 figures suggest that the percentage of customer acquisition via social media is: Facebook 0.17 and Twitter <0.01. So, if you accept that organic search is way ahead for new customer acquisition at 16%, with CPC and email close behind, Facebook and Twitter sitting in the dust, and Google+ not even getting a look in, then where are all these other new customers coming from? Links, perhaps? Apparently not, because referrals, banner ads and affiliate links only add up to 7.81% in total.
I'm a bit sceptical of the figures in Custora's survey. (Unlike Wired, through whom I found the report in the first place. They can usually be relied on for intelligent comment but on this occasion appear to have accepted Custora's figures and analysis at face value.) For starters, there are too many gaps. If you tot up all the figures in their table of customer acquisition, the total only comes to 42.42%. Included in this is Google, PPC, CPM, referrals, banner ads, Facebook, Twitter, affiliates, etc. It's interesting as far as it goes, but what happened to the missing 57.58%? That's what I want to know – and what I'll try to find out next. Meanwhile, I see little point piddling about on Twitter in the hope of bringing in around 0.01% of new customers.
Do you agree or not? What do you think of the survey? Does your experience match these results or have you had great results by "getting social"? Please comment!