Buying Websites: How To Invest In Online Real Estate – a book review
Buying Websites: How To Invest in Online Real Estate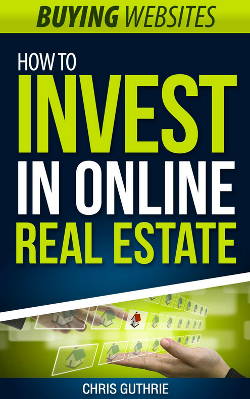 by Chris Guthrie
This book is by a well-known figure in the Internet Marketing field, and it comes highly recommended and raved about by many. So, let's have a look at it. It was published in April 2013 and I grabbed it while it was on it freebie promotion. It currently retails at $4.99 on Kindle, and is estimated to be 69 pages long. (Kindle devices vary, so the number of pages depends on your device and your settings. But it gives you a rough idea of what to expect.)
From Amazon's product description:
Would You Like To Learn How To Invest In Online Real Estate?

Inside this book you'll learn the tactics and strategies necessary to buy websites and turn a profit as quickly as possible. As an investment strategy buying websites can provide an excellent ROI, but there are a lot of mistakes that beginners make that you can learn avoid by reading this book.

Inside You'll Learn:

1. How To Identify A High Quality Website Worth Buying
2. Where To Find Websites To Buy
3. The Secret Method For Buying Websites With Less Competition
4. How To Handle The Website Purchase And Transfer Process
5. How To Increase The Traffic And Income On A Website
6. Case Study 1: How I Turned My First $500 Investment Into $7,000+ In Profit
7. Case Study 2: How I Recouped My $4,000 Website In Only 7 Months
8. Case Study 3: What Can Go Wrong When You Buy A Website
and more…
As is usual, the book starts with the book cover illustration, the title page, copyright notice and disclaimer. Next up is a "free bonus" page with a link to his site where you can get his free checklist. Most books or courses just give you a checklist without making a song and dance about it, but I guess he's the type of guy who likes to be seen as being there to help people.
Introduction to Buying and Selling Websites
Hello! My name is Chris Guthrie and I currently generate a growing six figure income from my online business. I have a wide range of income sources that include websites I have purchased as investments.
Hmm, that might have been better in an 'About the author' section for readers to skip, especially if they've heard his amazing rags-to-riches story a hundred times before. It sets my teeth on edge anyway. Most truly successful people never boast about how much money they make. Well, really. It's not quite the done thing, is it? "Hi, I'm Kay and I make a million dollars a year. Please buy my $4.99 ebook." Somehow it doesn't quite add up. Next comes a lot more boasting about how he bought a website for $500 and made $7,000 profit, then he continued with this strategy until he sold one for six figures. Chris, please give it a rest. Can there be anyone on the planet with an interest in websites who hasn't heard all of this before?
At last, he gets down to it and tells us that it's important to identify income and traffic history and sources. This is not exactly ground-breaking information. Then there's a bit about where to find out about the website's traffic, eg the seller's stats and some publicly available data. That's fine, and possibly useful for a newbie. You also need to look at the age of the website and the quality of its content. (By now we're about 25% of the way through the book.) He then suggests checking CopyScape for duplicate content, but makes no mention of any of the tricks which can easily be used to fool CopyScape. Then he explains why the quality of links are important. He mentions that you must consider the ease of running the website and the time involved in doing so. This section concludes with a recap of all these things you need to think about when considering whether or not to buy a website.
It's all very well to say that you need to look at these things, but how do you verify the figures and have confidence in the accuracy? Perhaps he'll get to that later.
Next he tells us the "traditional" places to look for websites. Flippa is the dominant marketplace. Heck, Flippa was founded in June 2009 and so if that's "traditional", then this piece of information is gonna make some of us feel like antique dealers. Hang on a minute, we seem to be quite a way through the book now and I'd thought we were still in the Intro chapter. The book doesn't seem to be structured, it just seems to hurtle from from one subject to the next.
He then gives a list of what's already been covered, and moves on to enumerate and briefly describe nine additional factors to watch for which, he says, are specific to Flippa listings. Sure, some of them are, such as incomplete listing information on Flippa, but watching out for trademark infringements isn't Flippa-specific. This book is really starting to confuse me.
Then, as a "thank you" for reading his book, he offers a $10 discount coupon for something, and tells us that there are a lot of low-quality sites listed on Flippa.
I had a look and it turns out he's selling SiteFinderPro for $27 (there's that magic number 7 again). Apparently this enables you to "unearth hundreds of hidden, gold-nugget sites, with huge traffic and income… that nobody even knows about." Apparently it's the ultimate Flippa research weapon.
Now we've got past that little bit of self-promotion and upselling, let's get on with the book.
Next he explains that if you're looking to buy or sell websites at the higher end (as he does), then it's probably better to use a broker. He lists some brokers.
Then he moves on to tell us that if you want to buy without using Flippa and the traditional marketplaces, then you can use what he calls the "research method". In other words, he shows you how to use the Google AdWords Keyword Tool to do some basic niche and keyword research. Next up is how to write an email. And don't forget to include your phone number to show you're serious. Then he imparts some advice about negotiations and explains how websites are often sold for multiples of monthly income. (Link to more info on his website.)
He follows that with some stuff about how to pay for the website, and a disclaimer that he's not a lawyer so you might need to seek professional legal advice. Plus another plug for the thing he offered as a bonus at the very start. He gives a brief description of the transaction process using Escrow.
The next section is about how to transfer the website. This goes on for several pages.
And then we're on to what to do after you've bought the website. The first thing (Strategy 1) you want to do is to increase the traffic to it. Following on from some more of stating the bleedin' obvious, he then says: "(I know it's obvious – as some of the best advice generally is)", thus implying that he's giving you the best advice. Somehow I feel sceptical about this. Strategy 2 is to generate more revenue from the traffic. The explanation of the strategy consists of two sentences suggesting that you can improve your efforts on the existing sources of income and identify new sources.
He shows us a chart of a website page laid out into zones. You know, the usual thing about ad placement. He says that ads placed closer to the content are likely to perform better. Next he goes on to discuss each zone in more depth. Hmm, I was almost asleep but this has wakened me up. It's almost quite interesting. It's a bit of a spin on the heat maps data, but this could indeed be very useful for a newbie. Then he tells us that it's important to test. Yawn. Don't jeopardise your account by breaking any advertisers' T&Cs. You can read Google's T&Cs – here. Where? On his website, of course. (Silly me. If I wanted to read Google's T&Cs, I would have looked on Google.) Then he tells us that there are alternatives to AdSense and gives two examples. Fair enough.
(But if you want more, then check out Clinton Lee's 101 alternatives to AdSense.)
Then he recommends building an email list and suggests how to bombard people with your affiliate promotions. (Automated emails at timed intervals.) Also if you add more ad blocks, you can increase your income. (And Google is liable to bite you, but he doesn't mention that.) Next up is some bland advice about ways to monetise a site, such as advertising and affiliate marketing. This provides an excuse for more boasting about how great he is.
I've earned over $ 100,000 in commissions from Amazon's affiliate program and even sold one of my top Amazon affiliate websites in a six figure deal.
And you can buy his book about how to do that too, via the link he provides. (Does this kind of stuff make you want to puke too?)
You can also monetise a site by selling your own products. Also look at your competitors for ideas. And the next three chapters are case studies of how he's done it, because he wants to help you to learn by example from him. I've almost lost the will to live but I'll soldier on. We're nearly 75% of the way through now.
Case Study 1 – how he turned $500 into $7,000. I'm getting that same old feeling of déjà vu yet again. Is it not possible to read anything by Chris Guthrie without getting this story every time? Anyway, all you have to do is to follow the simple steps he's outlined in this book. Look! You can see his earnings. There's a screenshot to prove them. Plus it made money on AdSense. Not a lot (only a bit less than 900 bucks over almost three years), but enough to boast about anyway. Overall, he made a return on investment of 1484.55%. Maybe he did. I wonder if he factored in the cost of his time or any other costs into that claimed ROI figure. Anyway, he says, the site doesn't do so well now because of a Google algo change. He doesn't bother with it any more now because he's concentrating on his bigger sites.
In which case, Mr Guthrie, could you please explain the relevance of including a case study of something that no longer works? There are loads of us who could tell you how we raked it in many years ago but these methods don't work now. What is the point of telling newbies how you succeeded back in the year oatcake? It's history. This does not teach someone "how to invest in online real estate" today.
Case Study 2 – how he recouped his $4,000 website investment in 7 months.
He was lucky enough to spot an undermonetised site and he monetised it. This case study is a spiel to persuade you of the fantastic opportunities there are for you to do the same. Yeah, right. The marketplace is just full of opportunities for newbies to come along, pick up these sites for a song, and monetise them.
Case Study 3 – I can hardly wait. This one is about what can go wrong when you buy a website.
He bought a dud, in other words, and got conned because he didn't do his due diligence properly. I think this case study is to gain your trust by letting you see he can make mistakes too. He's human. Then he gives the briefest of brief mentions to some of the risks involved in buying a website. Sure, everyone makes mistakes, but this basic stuff is just an anecdote and I can't see how it could help anyone to avoid making obvious mistakes when buying websites.
I'd hoped we were at the end, but unfortunately there's a bonus. This is about selling websites. It's not something he normally does because he hangs on to his to increase his revenue stream. However, if you do want to sell a site, it involves rocket science about preparing it for sale. Actually, this just seems to be tacked on as a space filler. Anyway, here goes. When you are trying to sell a site, the buyer is likely to want proof of traffic and income. They will also want proof of ownership.
Proof of ownership: If you're selling on Flippa there is an ability to upload a file to your website to confirm ownership, yet for some reason sellers don't always do this. This is a simple thing to add so make sure you provide proof of ownership.
Huh? That doesn't prove ownership. It only proves that the seller has access to the server and is able to upload a file to it. The seller could be an employee or business partner of the owner. The owner may have allowed FTP access to their server to a wide number of people. Or they may have failed to secure their site adequately, been tricked into giving away their password, or been the victim of a brute force attack that got lucky.
You'll also need to give an explanation of the business model and provide a reason for selling. Then there's advice about selling on Flippa – you should answer any questions which potential buyers might ask you. Golly gee, now we know everything and can venture off into this wonderful land of making six figure incomes by buying and selling websites.
The book concludes with a short list of useful places to find info about buying and selling websites. Plus there's an additional plug for his SiteFinderPro.
My conclusion
It was disappointing. I had wanted to ask Amazon for a refund but then I remembered that I'd got the book free in the first place. I think Chris means well but he seems to have fallen into the Dark Side of making money by telling people how he made money several years ago. The book was far too superficial for anyone except the rawest newbie. It was reasonably well written although it didn't seem to be structured very well into chapters or clearly defined sections. I've seen a lot worse. However, it skated over the surface of the subject without really tackling the meat of the due diligence process or covering what people need to know when they're considering whether or not to buy a website. It's pleasant enough light reading but it's not something anyone should rely on for advice.
I got the distinct impression that this book was mostly about a personal journey. Selling this book based on his experiences several years ago seemed to be a new source of revenue for him because a lot of what he talks about doesn't work any more anyway. Plus it's a sales tool for the tool he's selling to filter Flippa sales listings.
I don't recommend that you buy the book, but just in case you are a complete newbie who thinks they might benefit from it, or if you are a Chris Guthrie fan, then here are my affiliate links to purchase the book.